Learn English: E-Shopping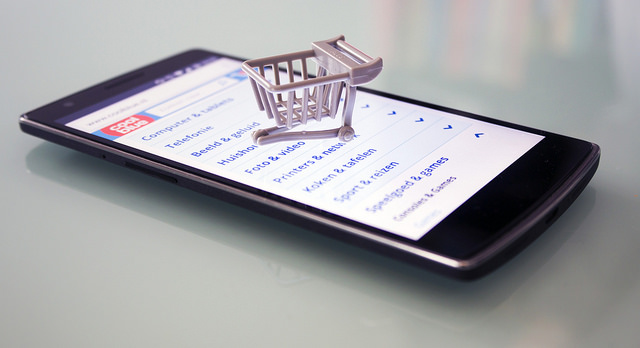 Online shopping is now a big part of our world. That's why it's essential that any student who wants to learn English nowadays knows how to identify, write and say vocabulary related to online shopping. Here's a useful lesson we've put together, taken from one of our ESL books for adults: Station 4B and see how much you know already about e-shopping.
Read the following conversation between two sisters and then answer the questions below:
Rebecca: You look happy, Sis.
Nicole: I am. I just found out that my favourite author has released a new
book. I can't wait to buy it!
Rebecca: Why don't you buy it online? I know a good e-shop; they always
have special offers on their website. And if you pay a little extra, you can
get express delivery.
Nicole: Well, I'd like to do some Internet shopping, but I'm not techno-savvy like
you. I've never bought anything online before and I don't know how to do it.
Rebecca: Let me teach you, then. It's easy to place an order. Here's my laptop. Go to www.bookstore.com and
find the book you want. Then I'll tell you exactly what to do.
Nicole: Thanks, Becky.
(A few minutes later)
Nicole: OK, I found the book I want, and a few others too! Now what do I do?
Rebecca: Click on the books and then click on the Add to basket icon.
Nicole: I've done that. Now what?
Rebecca: Click on Proceed to checkout and enter your personal details and delivery address. Then click
Continue at the bottom of the page.
Nicole: Now it's asking for my payment information. Are you sure this is safe?
Rebecca: Relax. This website is very secure. They've got software that encodes all your information, so no
one can steal your debit or credit card details. I've used this site loads of times and I've never had a problem.
Nicole: Oh, well, that's reassuring.
Rebecca: Are you using your debit card? You need to enter your name here, and then the sixteen-digit
number that appears on the front of the card. Oh, and you have to give the expiry date and the security code
too.
Nicole: The security code? Is that the same as my PIN?
Rebecca: No, it's completely different. You should never tell others your PIN. The security code is the
three-digit number on the back of the card, next to your signature.
Nicole: Do you mean this number here?
Rebecca: That's right. Now click on Place your order and that's it! They'll send you an email to confirm your
purchase and will send your books in the post.
Nicole: Wow; that was a piece of cake! I can't wait for them to arrive!
Exercise 1. Answer the questions below:
1 Does Nicole know a lot about technology?
2 Why does Rebecca believe the website is safe?
3 Does Nicole need to give her PIN?
4 What is a security code?
5 Did Nicole find it easy to place an order?
Exercise 2: Circle the words and phrases in the dialogue that mean the following:
1 personal identification number
2 knowledgeable about technology
3 information about your name, email, address, etc.
4 the place a product will be delivered to
5 information about a debit/credit card
6 submit an order for a product
Please submit your answers in the comments below and we'll reveal the right answers to you at a later date.
Extra activities:
Write or speak about your own online activities. Do you like online shopping? Have you ever bought anything online? How was the experience for you?
Image via @Robbert Noordzij