How to order coffee in English like a local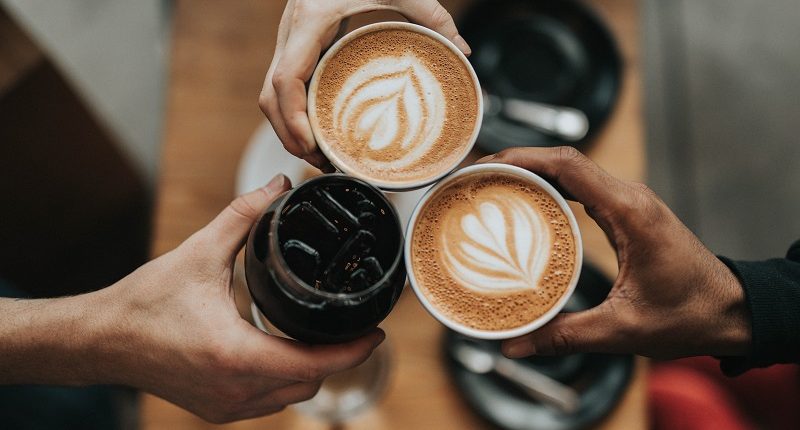 One of the most common meeting points for students, friends and even coworkers is a coffee shop. If you can't order the kind of coffee you want correctly, it can be embarrassing. So, why be embarrassed when it is an easy thing to learn? We've put together some phrases to help you order a cup of coffee in English like a local. If you love coffee, you probably look forward to ordering, so make sure you get it right.
The first thing you should do when entering the shop is to look at the menu. When you've decided what you're having you can go to the counter. There the person working at the coffee shop will greet you by saying something like "Hello, what can I get you?" or "Hello, what would you like?" You can then respond by saying the following:
I would like a …
I would like a cup of …
The next thing you want to say is the size of coffee you would like. Traditionally there are three standard sizes: small, medium and large. Some coffee shops have their own sizing such as Starbucks, where small, medium and large are called tall, grande and venti. However you will be understood if you say small, medium and large, so it's best to learn these and stick to them.
The next thing you want to mention is the type of coffee you want. Here are the most common coffee types:
Espresso – strong black coffee without milk. If you want more, you can order a double espresso.
Latte – black coffee and steamed milk
Cappuccino – the most common type of coffee that people enjoy drinking, which includes steamed milk and milk froth
Mocha – black coffee served with steamed milk and chocolate syrup
Be careful when ordering an espresso; most people, even native speakers, pronounce the word wrongly saying ex- instead of es-.
Then you should state if you want any sugar in your coffee and how much. Next comes the type of milk you want. Most modern coffee shops and chains will have a few milk options. The standard milk added to the coffee is whole milk, but you can ask if they have low-fat. If you're lucky, they might even have organic milk. Another type of milk they might have is soy – a plant-based milk produced by soaking soy beans. The last option is especially good for lactose intolerant people, who can't easily digest animal milk, and for vegans, who don't consume animal products.
Then you can choose a flavor or topping. You might want to add something to your coffee to make it a little bit special, such as chocolate, caramel, hazelnut, or vanilla syrups. Most coffee shops also have the option to add whipped cream (chantilly) or even ice cream.
So if you add all this together you would ask for a coffee in this order: size, type of coffee, sugar, milk, toppings. For example:
"I would like a medium cappuccino, no sugar, low-fat milk and some hazelnut syrup, please."
Some coffee shops will also give you the option to sit in, or to take away. To stay in the coffee shop, you can say "for here" or "to sit in." To take the coffee with you with you, say "to take away" or "to go." Sometimes, they might not have the coffee you want, or you may want to eat something too, or perhaps you would like to ask about the drinks they have. So, here are some more basic phrases for ordering:
"Hello. I'd like a double espresso, please."
"Could I have a large cappuccino to go?"
"Can I get a medium latte for here?"
"I'll take a small mocha, please."
To ask about the menu you can say "Hello. Do you have…?" You'll also want to be prepared to answer questions from the barista (the person who works at the coffee shop), especially if you haven't already said more details about what you would like. For example they may ask you:
"What size would you like?"
"A (small/medium/large), please."
"Would you like anything else?"
"No, thanks. That's all/it."
"Yes, can I have a chocolate muffin as well?""
"Is that for here or to go?"
"To go, please."
"For here, please."
If it's your first time in a specific coffee shop, you might not be aware of its etiquette, especially if it's a place like Starbucks. Here are a few things to keep in mind:
– The barista might not put sugar in your coffee, you might have to put it in yourself. You might be given sugar on the side in sachets or there might be sugar at the counter. If you can't see those, you should ask "can I have some sugar, please?", or "where can I find the sugar?"
– The cashier might ask for your name so they can call you when your coffee is ready. If not, they might call your order, so remember to listen out for that.
– If you just order "coffee", it will be strong black coffee, so remember the terms above to be more specific if you want something different.
– If you need more time to decide when you get to the counter, don't worry, just let the person behind you go in front. You can gesture for them to go in front or say "You can go ahead, I'm still deciding."
With these phrases you'll be more than ready to order the perfect coffee in English like a local.