5 fantastic novels to help you learn English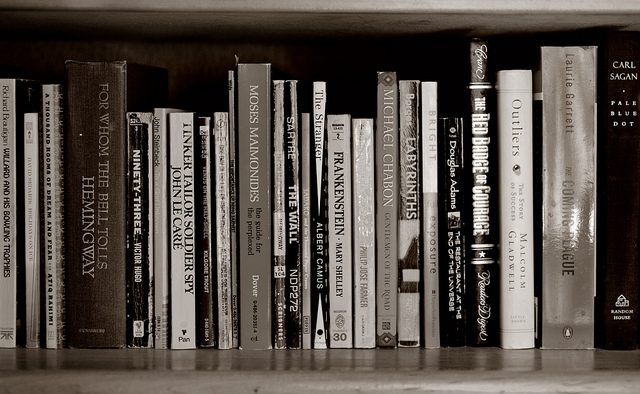 Reading is one of the most enjoyable and effective ways to help you learn English. Not only does it help widen your vocabulary but it exposes you to different settings that you don't often find in textbooks.
The latest technology means we can have books to hand whenever and wherever we want them. The great thing about e-readers and tablets is that they make learning English while reading even easier. If you don't know a word, you can simply click on it to read the definition. If you have a Kindle device you can even add words to the Vocabulary Builder, so you can memorise words you have just learnt.
If you want to improve your listening and pronunciation skills then you can also find devices and apps that have audio with the books so you can listen and follow the text as you read.
With many choices at your fingertips there is no excuse not to be reading novels to help improve your English.
Here is our selection of five great novels that are the perfect starting point to reading in English:
1. Lord of the Flies – William Golding
A modern classic, that is studied in schools all over the world, Lord of the Flies tells the story of a group of young boys stranded on a desert island. They then have to learn how to govern themselves. Things start out peacefully but then descend into chaos. Golding's descriptive language and scenery brings English to life.
2. Danny the Champion of the World – Roald Dahl
Roald Dahl is a fascinating author to sink your teeth into, his beautiful stories captivate both children and adults alike. While some of his stories can be hard for English learners due to the nonsense language used, Danny the Champion of the Wolrd, doesn't have this problem. The story centres on a boy's relationship with his father and his father's secret past.
3. The Old Man and the Sea – Ernest Hemingway
This book may be a little challenging at first, but it's a great introduction to Hemingway's work and is quite possibly one of the greatest works that has ever been written. It's a short novel that earned Hemingway the Nobel Prize for literature in 1954. The Old Man and the Sea is an emotional tale that documents one fisherman's struggle against nature.
4. Animal Farm – George Orwell
Orwell's allegorical tale of a revolution gone wrong is perfect for English language learners of all levels. Animal Farm tells the story of farm animals who rebel against their masters and is a satire of Stalin's Soviet Union. The novel is short, the vocabulary is easy to grasp and all the characters speak in clear and concise sentences.
5. Empty World – John Christopher
Originally written for a teenage audience, Christopher's Empty World is every bit appropriate for an adult audience too. The story centres around the main character Nick. When Nick's parents are tragically killed in a car crash, he has to live with his grandparents. Shortly after moving, a deadly virus starts to spread, killing most of the population and Nick is left to survive alone in the world.
Which novels do you like to read in English? Tell us in the comments below!